Island Peak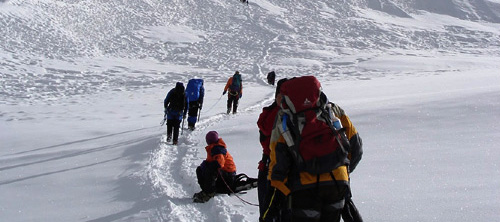 Island Peak, is 6187 meters high and one of the most popular and busy trekking peak in Nepal, also known as Imja Tse, lies in the Khumbu Himalayan range. Climbing this peak gives the best satisfaction every amateur and serious climber can dream of. If you are seeking the thrill of adventure and wish to widen your experience towards the peak climbing expedition beyond simply trekking in Nepal, this is the mountain for you.
Trek Facts
No. of days: 19
Mode of trek: tea house / camping
Starting point: Lukla
Ending point: Lukla
Max. Elevation: 6189m
Season: Sept/November and Mar/May
Max. Walking: 6-7hrs.
Mode of travel: fly in fly out
Itinerary
Day 1 arrival Kathmandu (1350m)
Day 2 fly from Kathmandu to Lukla(2800m) and trek to Phakding (2600m).
Day 3 trek to Namche Bazaar (3440m).
Day 4 Rest day at Namche Bazaar (for acclimatization)
Day 5 trek to Tengboche (3860m).
Day 6 trek to Dingboche (4400m).
Day 7 trek to Chhukung (4730).
Day 8 Climb to Island Peak Base Camp then on to High Camp (5500m)
Day 9 Ascent of Island Peak 6189m & return to Base Camp (5087m)
Day 10 trek to Dingboche(4400m).
Day 11 trek to Lobuche (4910).
Day 12 trek to Gorak Shep(5140m) and  Everest BC(5200m) & return to Gorak shep.
Day 13 trek to Kalapatthar(5500m) and return to Lobuche(4910m).
Day 14 trek to Pangboche(3980m).
Day 15 trek to Namche(3400m).
Day 16 trek to Lukla(2800m).
Day 17 fly back to Kathmandu .
Day18 sightseeing in Kathmandu.
Day 19 final depicture