Kailash Tour:- The Drive In Drive Out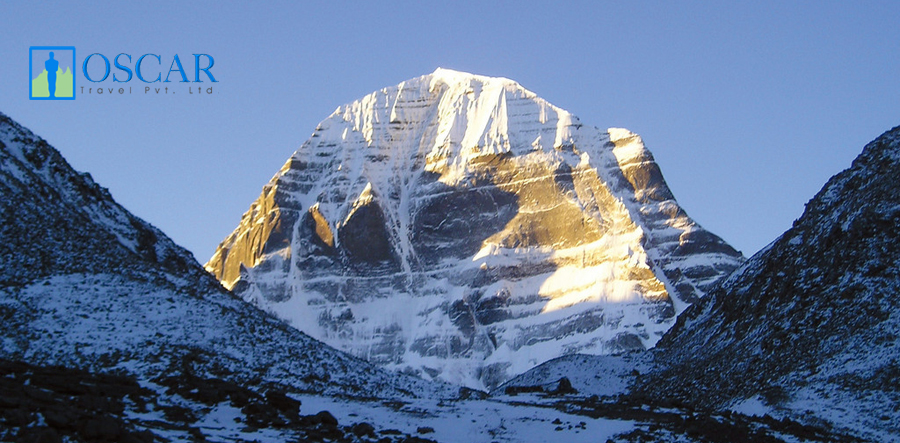 A great mass of black rock soaring to over 22,000 feet, Mt. Kailash has the unique distinction of being the world's most venerated holy place at the same time that it is the least visited. The supremely sacred site of four religions and billions of people, Kailash is seen by no more than a few thousand pilgrims each year. This curious fact is explained by the mountain's remote location in far western Tibet.
No planes, trains or buses journey anywhere near the region and even with rugged over-land vehicles the journey still requires weeks of difficult, often dangerous travel. The weather, always cold, can be unexpectedly treacherous and pilgrims must carry all the supplies they will need for the entire journey. How long have people been coming to this sacred mountain? The answers are lost in antiquity, before the dawn of Hinduism, Jainism or Buddhism. The cosmologies and origin myths of each of these religions speak of Kailash as the mythical Mt. Meru, the Axis Mundi, the center and birth place of the entire world.
The mountain was already legendary before the great Hindu epics, the Ramayana and the Mahabharata, were written. Indeed, Kailash is so deeply embedded in the myths of ancient Asia that it was perhaps a sacred place of another era, another civilization, now long gone and forgotten.
Day01.

Kathmandu(1300m) to Kyurung (1,895m) 165Km

Early morning drive 8/9 hours we will be reach   Kyurung border to see panoramic Himalayan view. Overnight at Guest House.

Guest House.

B/B

Twin Sharing

Day02.

Kyurung(1,895) to Saga(4,600m)265km.

Morning time drive to Saga Scenic mostly group  visit Kyidrong (Dzongka)5,170m, Shangyala, we will reach in Saga Overnight Hotel.

Hotel

B/B

Twin Sharing

Day 03

Saga(4,600m.) to  Mansoravar(4,505m) 420km.

There are several ruined  monasteries along the 145km including Dargyeling Monastery, passes Lhaksang, Zamlungla then we will reach Zhongna. Overnight at Guest House.

Guest House

B/B

Twin Sharing

Day:-04

Explore Lake Manasarover then drive to Darchen (4,660m) 53km.

Morning worship on the bank of Manasarover  afternoon drive to Darchen. Overnight at Guest House.

 

B/B

Twin Sharing

Day:-05

Darchen(4,460) – Dira Phuk (4,900m) 18km.

The kora path begins rather obviously on the western edge of Darchen .The east – west ridge   blocks your view of Mt kailash ,but to the southest are clear views  of huge Gurla Mandata(7728m),Visit to Dira Phuk Monastery, Overnight at camp.

 

Guest House.

B/B

Twin Sharing

Day:06

Dira Phuk – Zutul Phuk (4,750m) 20km.

The hardest and most important  day of the tourCross high Dolpa- La pass (56700m) and decend to Gauri Kund and future trek along with the river to Zutul- Phuk Dinner & Overnight at Camp.

Guest House

B/B

Twin Sharing.

Day:-07

Zutul Phuk  -  – Drive to New Dongba  (4,430m) 74km.

From the  Zutul- Phuk  Monastery ,then climbs above the river  and enters the lovely Golds and Red Cliffs a narrow canyon whose walls are stained purple ,cobalt and rust. You can see canyon narrows look for holes gouged into the cliff walls. These are not  natural but made by pilgrims looking for holy stones.Also look  for the far distance the blue waters of the lake Rakshas Tal. Drive to New Dongba  Overnight Guest House.

Guest House

B/B

Twin Sharing

Day:08

New Dong ba(4,4) to Saga 435Km

Drive back to Tingri. From today you will be leaving this holy place. Overnight at Hotel.

 

Hotel

B/B

Twin Sharing

`Day:-09

Saga to Kyurung (3,900m)

Hotel

B/B

Twin Sharing

Day :- 10

Kyurung to Kathmandu.

Hotel

B/B
Services Includes:
Yak and Yak Man During the Kora.
Accommodation on Hotel & Guest House
Private Transportation   by One bus
All Sightseeing and entrance fee as per the itinerary.
All Necessary Travel and Trekking Permit.
One Tibetan English speaking guide
Services Excludes:
Lunch and Dinner
Sleeping bag and Down jacket (Good Quality thick one)
Tips for Guide Guide Driver
Hiring  porter or Horse.
Any Additional cost due to Natural calamity and Unforeseen Circumstances and etc.