Lobuche East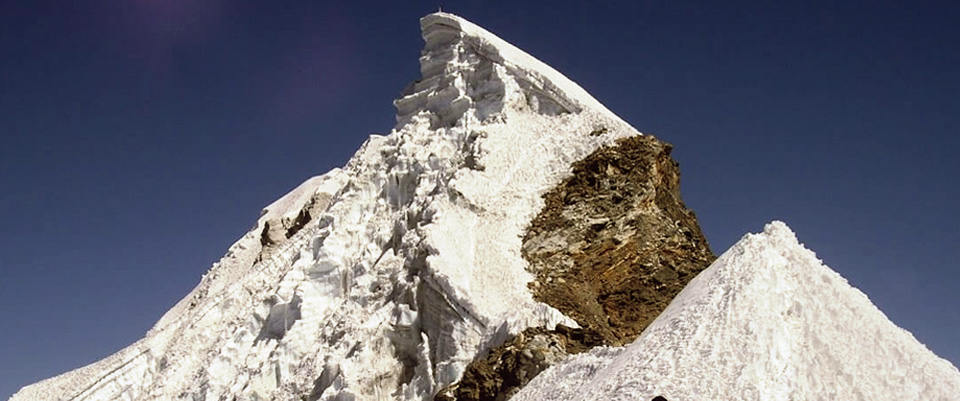 Lobuche is another most popular climbing / trekking peak in Nepal. Sherpa capital of Namche Bazaar is veering off the trail to Everest base came. We will enter the magnificent Gokyo valleys, a land of high altitude lakes and icy glaciers. After crossing Cho La (5,420 m / 17,778 ft) (except going to Gokyo valley and Chhukuma La Pass we proceed towards Everest base camp as well) we go towards the Khumbu glacier en route to Everest base camp (5,358 m / 17,575ft) and The mountain itself is the extension of the north ridge of Mt. Nuptse separated by a small col. The ridge rising to the south from this point leads to the summit of Lobuche Peak. Seen from the summit the giant mountains, Nuptse (7,879m), Lhotse (8,501m), Mt. Everest (8848 m), Lhotse Shar (8,383m), Pumori (7165 m) and more mountain peaks make a circle around you. The views of Makalu (8475m) in the east, Baruntse and Ama Dablam in the south add more charm for climbing Lobuche Peak. The journey came to end at Lukla airstrip then we fly back to Kathmandu.
Best time:
Autumn: October – November
Spring: March – May
Object of interest:
Great glacier landscape between Lhotse and Ama Dablam
Beautiful panoramic view
Monasteries in Phakdingma, Thame, Namche, Pangboche and Tengboche as well as numerous gompas
Starting point:
By flight from Kathmandu to Lukla
Itenerary:
1 Arrivel in kathmandu tranfor to hotel
2. half days sightseeing in kathmandu and preparation for pick climbing (equipment)
3.Flight to Lukla and trekking to Phakdingma (2640 m / 9 km)
4.Phakdingma to Namche (3440 m / 13 km)
5.Namche acclimatization day (3440 m / 00 km)
6.Namche to Dole (4040 m / 12 km)
7.Dole to Machermo (4410 m / 6 km)
8.Machermo to Gokyo (4750 m / 8 km)
9.Gokyo to Gokyo Peak (5460 m) and back to Gokyo (4750 m / 8 km)
10.Gokyo to Dragnag (4690 m / 3 km)
11.Dragnag over Cho La (5420 m) to Dzongla (4843 m / 11 km)
12.Dzongla to Lobuche (4930 m / 7.5 km)
13.Lobuche to Kalapathar (5545 m) to Gorakshep (5167 m / 10 km)
14.Gorakshep to Everest Base Camp (5367 m) & back to Lobuche (4930 m / 11 km)
15.Lobuche to Lobuche Base Camp (4740 m / 4 km)
16. Acclimatization at Base Camp
17.Base Camp to High Camp, (5436 m).
18.Climbing period
19.Summit to Lobuche 6119m. & Back to Lobuche (4930 m)
20.Lobuche to Dingboche (4300 m / 10 km)
21.Dingboche to Tengboche (3867 m / 10.5 km)
22.Tangboche to Namche (3440 m / 9 km)
23.Namche to Phakding ((2640 m / 13 km)
24.Phakding to Lukla (2866 m / 9 km)
25.Return flight to Kathmandu (1400 m / 30 minutes flight)
26.Departure for next destination.